Mandarine and vanilla body butter with gold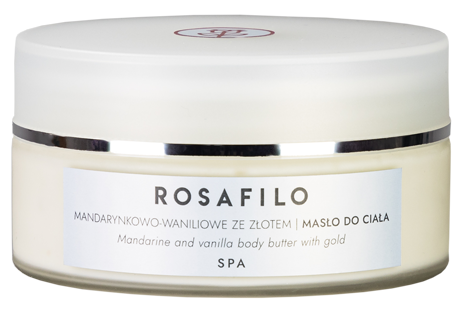 Pojemność: 200 ml
ORDER
ACTION
antibacterial
anti-inflammatory
stimulates the synthesis of collagen and elastin
moisturizes and nourishes the skin
delays the wrinkle formation process
Mandarin-vanilla butter with gold is health and luxurious pleasure. Gold has an intense moisturizing effect, therefore it can be used for the care of all skin types. Gold narrows pores and has antibacterial properties, thus preventing skin infections. It also regenerates, rejuvenates and brightens the skin.
Stimulating the processes taking place in the skin, i.e. stimulating collagen synthesis, reducing oxidative stress, tissue reconstruction and delaying the formation of wrinkles, are other important aspects of gold's action. Its molecules stimulate fibroblasts to produce collagen and elastin, which are the main substances responsible for skin firmness and tension. Gold also has properties that slow down the secretion of melanin, hence it is recommended for people struggling with discoloration. It removes free radicals and helps to reduce the harmful effects of UV radiation.
After applying the butter, the skin is naturally radiant and radiant.
ALSO CHECK