A LAND OF PLEASURE, FRAGRANCE, AND WELL-BEING

Rosafilo is a family run business established in 2018, in the coastal region of North-West Poland. Rosafilo cosmetics aims to combine both nature and beauty together. Our inspiration to create 100% natural and unique cosmetic products derives from the breath taking beauty of the Baltic coast. The main intention of our brand is to create products that will be both beautiful and authentic. We focus mainly on luxurious and professional cosmetics for SPA centres, hotels  and beauty salons.
A TOUCH OF NATURE

At the very heart of our brand we aim to provide products that stimulate the senses and give the customer a relaxing and revitalising experience. How we incorporate the form, structure and fragrance of the natural world into our products is what makes the Rosafilo brand so unique. We want to show off the abundance of nature that surrounds us by creating completely natural products that are both good for you and for the environment.
Coastal dunes are on the horizon. The wind lashes the pine forest that smells of resin. The waves crash and the grass rustles. The breeze carries the scent of sea salt. Rose bushes grow here and there. Their scent enchants us and their delicate petals encourage us to pick them. The sand massages our feet. The sun's rays spread lazily in a light haze. The freshness of the air, and the smell of the earth, forest and roses lingers for a while...
We are not often in such a place … But is all lost? Can we not move there, even if we are far away? The experience of being in nature is something very special. Many painters, musicians and poets tried to encapsulate it in their work over the years, and this is what we try to do with our cosmetics.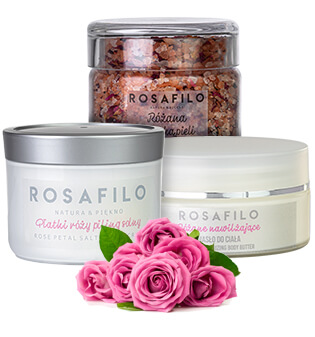 100% NATURAL INGREDIENTS

Rosafilo products contain certified plant and raw mineral materials. These components nourish, strengthen, regenerate and protect the skin. Each of our products are rich in vitamins and minerals. Our compositions are based on naturally selected plant materials derived from organic farming such as, vegetable butters, valuable cold-pressed oils, natural essential oils, herbs and hand-picked flower petals. The purpose of our cosmetics is to gently provide the skin with the highest level of care possible.
We do not use animal substances in the production of our cosmetics, and we do not test our products on animals.
Rosafilo cosmetics prides itself on being a combination of both nature and beauty.




PRODUCTION
Rosafilo cosmetics are hand made and produced using our own original recipes. We pay special attention when selecting the appropriate ingredients needed for each product – all of our products are 100% natural. We take great care during their creation and production, using sterile conditions and ensuring that the final product is of the highest possible quality.